Southeast Cheerleaders Win Superior Rating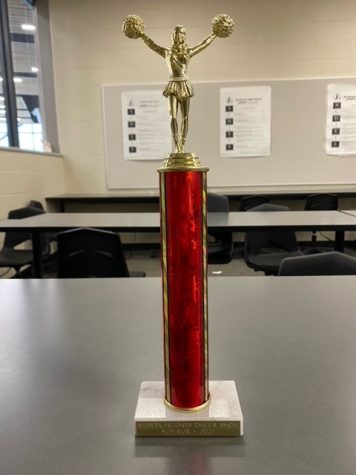 The Southeast cheer squad received a "superior" rating during this year's Heights cheerleading competition.
"The Heights cheer show is a cheer showcase for all Kansas cheer teams and it's just for us to showcase our talents and just give a good performance," cheerleader Faith Barnes (12) said.
During the show Southeast was one of two teams that received the highest rating.
"We did good during the competition. We got good crowd reactions, we got good scores and everything looked really clean," Barnes said. 
The squad worked hard on practicing for the competition to make sure everything would go well. 
"They exceeded expectations,we did a bunch of new stunts that we've never done before, we hit our stunts and nobody fell and everybody did what they were supposed to do so it just was a great turnout," cheer coach Kaitlyn Hoover said. 
"The whole team put in their full effort. We utilized everyone throughout the whole routine, and everyone had positive energy and everyone contributed. It took about I'd say one and a half months to prepare for the Heights show and we practiced about three days a week," Barnes said. "It took us about like a couple weeks to a month because it's definitely something that you have to prepare over time and perfect," cheerleader Yelitza Cervantes (11) said. 
This is a big accomplishment for the team.
"It just says that we're the best and that you know we always put on a show and come out and just do our best," Barnes said. 
The cheer team has been doing very well this year and will continue to compete in future competitions.
"I think we could continue to win we're going to go to another competition in February, so I think we could continue our winning streak and just continue being the best cheer squad … in Wichita," Hoover said.