Lack of Laptops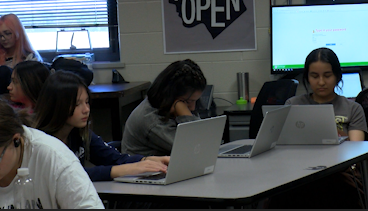 After a full month of school, most Seniors have their laptops.
At the beginning of the school year, 1,600 laptops were passed out. But 700 students didn't get one. Apparently the district did not have enough chargers, but now that they finally have enough and they're being handed out to seniors in English classes. Anyone else still missing one will get theirs soon.
"The biggest issue is we didn't have enough chargers. So we had to stop just because otherwise we're handing laptops out with no chargers, which doesn't do anybody good," stie technology technician Jeff Davis says.
The reason why this has happened is because of the overpopulation issue we have been facing in our school.
"The reason that happened this year is the way it works is we get back what we send, which was approximately… 19,050. And of course we had a big enrollment spike this year which threw everything out of whack," Davis said. "We have ordered chargers. We're waiting for them to come in. Once those come in, we're going to deploy the rest of what we have, which should be enough for everybody.".
Davis has been thankful to everyone that has been patient with him with this matter and hopes to get everything brought in for a successful year.