EDGE Grant Will Help Provide Emotional Support to Students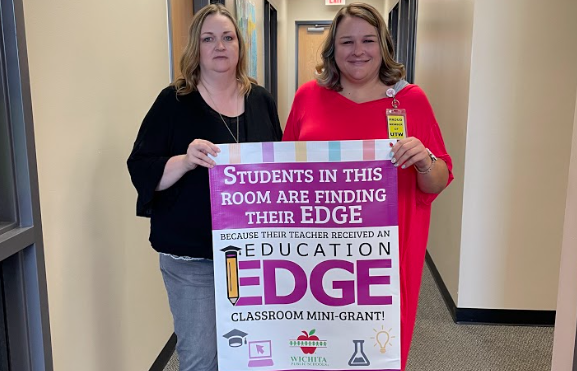 Teachers at Southeast have been fortunate enough to receive EDGE Grant awards this school year as well as in past school years. 
EDGE Grants are opportunities for teachers and educators to be able to apply for a grant to achieve a goal or plan. The awards offer students hands-on experience on things that the building does not have the budget for.
Last year, two teachers at Southeast High School were awarded an EDGE Grant, business teacher Kinsey Colclasure and counselor Boyd Teemant.
 With the funds Teemant received, he will be building an outdoor sand volleyball pit. 
While with Colclasure's funding, she made a coffee shop, Star Buffs, which is being run by the marketing class. 
This year Damarius Frierson (12) came up with an idea to create a club which will help students who are dealing with hard times be able to speak up about their troubles with other students who are dealing with similar feelings.
Frierson worked with psychologist Dr. Sarah Watkins-Mace and social worker Renae McFalls to write and apply for a grant after an opportunity had come up last spring for a matching grant where Everfi was partnering up with Education Edge.
Frierson decided to start this club after so many fellow students passed away or were killed last year. Watkins-Mace said that Frierson was very passionate about this club, and he was even willing to fund the whole club himself. He feels strongly that it is important for students attending Southeast High school to have a safe and positive experience for their mental health.
 "I wanted to make this club because of last year's unfortunate passings…because we lost so many people and most of them has been unfortunately to suicide or something else that's violence related. I just couldn't sit down and not at least try to make school more positive," Frierson said.
Watkins-Mace and McFalls say they hope to get their project started this semester.