Football Field Unusable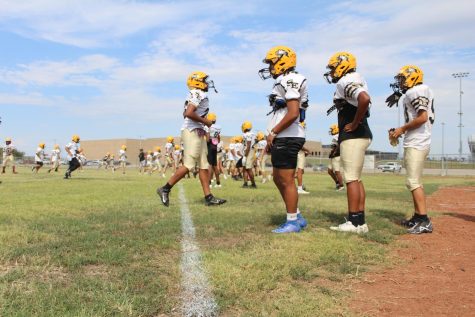 Issues continue with the Southeast football field. Recurring complications has been a problem with the new field throughout the history of the school.
Ever since the new Southeast building was built, there have been issues with the football field that have impacted sports such as football and soccer.
Athletic Director Kyle Haught says that the field is too dense to play on, with less turf for cleats to grip onto which can cause injuries.
"Visibly, you can see there's some issues. There are a few factors that determine how dense the field is with the rubber turf and also the fibers on it as well. And so the fibers have the grip with cleats and things like that. And so the less fibers an
d things like that, you know, the more chances your cleats are going to slip and fall," Haught said.
The unusable field has caused issues for where football and soccer can now practice at. Bussing has been a major priority for both teams.
"We've been practicing on the baseball field. We've learned the baseball outfield and we've been using that as the field," head football coach Marcus Bagley said.
Bagley says the team has kept great attitudes as they continue to play throughout the season, "We still are focused, you know, trying to get these guys to understand that they got to build a foundation and we tried to change the culture. And we've been coaching and preaching fundamentals."
"It doesn't affect us at all, we're fine for the season…we just gotta keep it going, practice hard and win games," football player Jaiveon Carter (12) said.
"It could've been worse, like not practicing at all… It doesn't affect us at all, we just gotta keep pushing," football player Kanye Brown (12).
Further changes have been made to the field, although it will take some time to fix.
"Just fixing some of the issues or full replacement for replacement would obviously take some time. And you know, unfortunately the probably the full fall season, hopefully would be ready for the spring season but there are some other issues around our stadium to that the district has kind of agreed to look at and fix and kind of go from there." Haught says.
Bagley says the team had to travel in the past due to not having a stadium until 2020. He says the football team has learned to overcome the adversity and hope to still have fans and students support this season.
"We're going to take advantage of the situation. You know, we're not going to let it hinder us … I'm still going to approach each day the same," Bagley said. "Like I say, I'm gonna control my effort and attitude and approach to the game and I'm gonna make sure our players do the same thing."