Increase in Violence Impacts Southeast
Like the rest of the country, Wichita has seen a rise in violent crime during the pandemic and it has even impacted us right here at Southeast. Student Azuri Jones was killed on Sept. 23 as a result of a drive-by shooting. 
"It was very shocking, it was very surprising. I felt very sad, I had to walk out of the classroom," Azuri's friend Desarai Adams (11) said. "She was an innocent 16 year old girl who did not deserve to get murdered."
Southeast also lost senior Cedric Lofton in September who passed away in police custody, but his cause of death is still under investigation. Just days before Jones and Lofton passed, three students were injured in a shooting near East Highschool. 
"Like even at school you can't even feel safe at school now because they're shooting up the school," Adams said.
Terri Moses is the director of USD259 Safety Services and was a former Deputy Chief of the Wichita Police Department, she has watched the violence rise over the years. "I worked for Wichita Police Department for 33 years before I came to this public school system, and in that time our homicide rate was the highest back in the 1990s, and last year in 2020 we equaled that rate, so that's a pretty strong indicator that violent crime is up, aggravated assaults where somebody is seriously injured were also up," Moses said.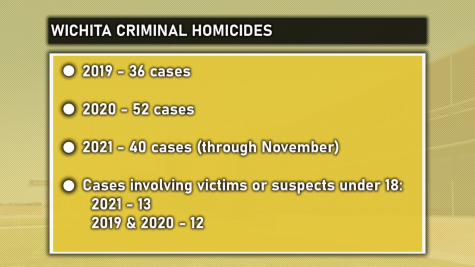 In 2019, the year before the pandemic, Wichita had 36 criminal homicide cases. During the height of the pandemic the number jumped to 52 cases. In 2021 there have been 40 cases so far. However, the cases in 2021 involving people under 18, either victims or suspects, have been more than the past two years combined.
There are things you can do to protect yourself and your community from becoming victims of violence. 
"If you see something that's going on that's inappropriate … you certainly need to let somebody know. We have a variety of ways to do that, if you're afraid of retaliation you can use our speak up program which is an application you have on your phone that allows you to anonymously report something," Moses said.
Adams emphasizes to never take the time with your loved ones for granted because you never know when things could change. "I wish the last time me and Azuri talked I wish we would have talked a little longer. You know, don't just be getting into petty arguments with people and then call it quits and stuff like that because they could be gone the next day."