Holes In Schedules
2,183 golden buffaloes are at Southeast this year, the largest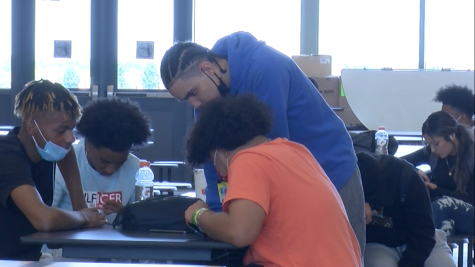 number the school has seen. With this overwhelming number of students, many of them were left without a complete schedule and stranded in the cafeteria during their empty hours. 
"Last year there were a couple things that were different, students were remote to begin the year, so we could put a few more kids in a class, we weren't limited by the physical size of the classroom, so you know that helped where we could put a little bit more kids in each class because there wasn't a classroom we had to worry about," Assistant Principal Jacob Henning said. "The other part is that we have our enrollment has increased. We have currently 2,183 kids on our synergy system, we were right at 2,000 about a year ago. So we have about roughly 200 kids that we have to put in classes."
Another reason there were so many holes in schedules is because after the COVID year, many students had unexpectedly not shown up to school but were still showing up on teachers rosters. This confusion set counselors back in the process of assigning students to classes.
"The counselors they're doing their best, it is a frustrating thing. It's been frustrating just with the amount of students we have and the lack of class space that we have," Henning said. "We're pretty full here at southeast, every classroom is being used and we don't like to have teachers float. Floating means they don't have their own classroom, they go classroom to classroom. We've taken over office spaces and created spaces out of them. We're doing what we can to get kids into classes but if you look around our school our area is growing. So at some point, we need to kind of look at probably boundaries or expand our school, that's kind of where we're at." 
Thanks to the hard working counselors, all students' schedules have been filled. We will keep you updated on how the school plans to deal with the overpopulation in the upcoming years.