Will the COVID-19 Vaccine Become a Requirement?
At this time, COVID infection rates are slowing down, and the government is trying to make sure as many citizens are getting the vaccine as possible. It makes us wonder, will the COVID vaccine become mandatory? How is that decision made? According to Branden Johnson, Executive Director of Secondary Schools, it's out of the district's hands.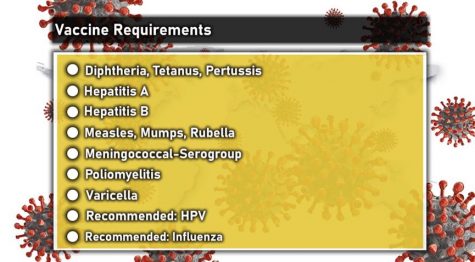 "That's a mandated thing from the state, they create what vaccines are and are not required for students to enroll in school, for people to be on the property for employees to be employees, so it's not up for us to decide as a local education agency, it is a state and federal agency issue," Johnson said.
There are currently seven vaccines that are required to attend school in Kansas, and two others are listed as recommended. The last time vaccines were added to the mandatory list was last year when Hepatitis A and Meningitis were included. 
Unlike most other immunizations, some people have concerns about the COVID vaccine. 
"I don't ever hear people complain about the Meningitis vaccine or the Polio vaccine or a Tetanus shot," Southeast school nurse Emily Scott said. "They're not scared of it or afraid of it, so yes, it is a different situation that I've never been around before where they just kind of have quickly come up with a solution to the problem."
However, the vaccines that have been approved are considered to be safe. According to CDC data, there have been around 250 million doses distributed in the US. So far, there are no deaths directly linked to the vaccine.
Scott and Johnson both think that the shot will likely be recommended, rather than being required. 
"I think it should be encouraged because there isn't enough to fairly make it required for everyone," Scott said. "So if we made it required and put restrictions on people and it's not available, that wouldn't be very good for the community."
"We can not mandate that individual students and employees take the vaccine. We definitely highly recommend it, but we can not mandate that," Johnson said. 
People we have talked to have mixed opinions about the vaccine. 
"No, because I have not gotten the shot, and I have not even gotten COVID, and it's been around for what, like a year already? I don't think it's worth it," Jr. Mataya Booth said. 
"I think the vaccine is actually a decent thing. People are getting it, that means they're helping saving the world, that means we can get the world back to a kinda normal world again," Jr. Janya Evans said. 
"Yes, if you can deal with the pain personally, and if you don't want to deal with it, then no. But it is good to be safe than sorry, you know," Fr. Mekhi Williams said. 
"I have gotten the vaccine, I've had both doses, and I had the Pfizer vaccine," School counselor Boyd Teemant said. 
"If that's what you want, I mean, I don't recommend it," So. Skylar Travis said.
"I think the COVID vaccine is good, it's effective, and it's making everybody healthier," Jr. Tarvell Barnes said. 
"I mean, if it makes you feel comfortable and it makes you feel safe, then you should get it," So. Jackie Adams said.
"Just me personally, I don't think it's needed. I mean, for some people I'd say the elderly, but other than that, no I don't think anybody needs it," Sr. Wesley Adkins said.
As of right now, the Pfizer shot is available for those who are 16 and older, while the Moderna and Johnson & Johnson are only available for those 18 and up.